Tablets have become an essential part of our lives. We use them to work, study, entertain ourselves, and keep in touch with others. However, with their portability and convenience comes the risk of damage. Tablets can easily fall, scratch, or get wet, which can result in costly repairs or replacements. That's why investing in a shockproof tablet case is a wise choice. In this article, we'll explore the features and benefits of the Shockproof Tablet Case and why it's a must-have accessory for any tablet owner.
What is the Shockproof Tablet Case?
The Shockproof Tablet Case is a protective cover designed to fit the 10.2-inch tablet size. It's made of high-quality materials, such as TPU+PC or TPU+Hard PC, which are known for their durability and resistance to impact, water, and dust. The case has a width of 18.6 cm and a length of 26.32 cm, making it easy to carry and store. The case is available in a hybrid kickstand design, which allows you to adjust the tablet's angle for comfortable viewing or typing.
Features and Benefits
Our Shockproof Tablet Case has several features that make it stand out from other tablet cases on the market. Let's take a closer look at each of them:
ROSH | SGS | REACH17 approves
· Over 10 years exprience in manufacturing with moderate price
· Military standard and children friendly material
· Moderate price&small MOQ
· Enjoy a good sales around the world
· US Design Patents
· OEM/ODM service provide
Shock & Drop Resistant
The Shockproof Tablet Case is designed to absorb shocks and prevent your tablet from breaking or cracking. Its unique shock-absorption design has four corners that effectively cushion any impact, protecting your device from damage. The case has also been tested by dropping it from a height of 2 meters onto a wood plate, proving its reliability in real-life situations.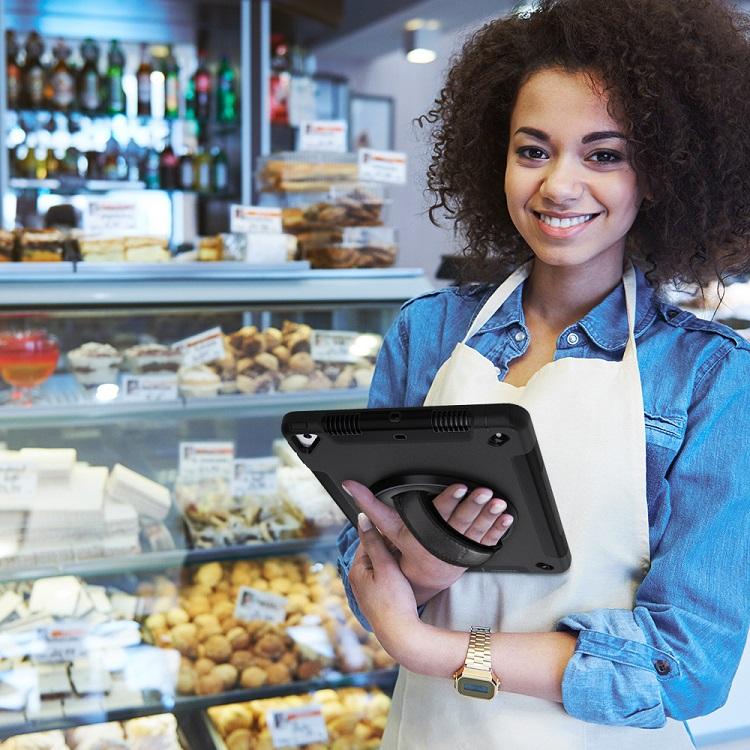 Prevent the Camera from Scratching
Another essential feature of our iPad case is its raised bezels, which provide protection for the camera. The bezels keep the camera lens from touching surfaces directly, reducing the risk of scratches, cracks, or smudges. With the case, you can take clear and sharp photos without worrying about damaging your tablet's camera.
Kid Safe
The Shockproof Tablet Case is ideal for families with kids or anyone who wants to keep their tablet safe from accidents. Its three-layer design combines soft and hard materials to absorb shocks and prevent impact damage. The case is also waterproof and dustproof, keeping your tablet clean and dry at all times. Moreover, the case has a kid-safe feature, which prevents pinching your hands when you fold the kickstand. To fold the stand, you just need to press the button gently, and it will close automatically.
Style and Design
The Shockproof Tablet Case combines functionality with style. Its hybrid kickstand design allows you to use your tablet in various positions, such as landscape or portrait mode, depending on your needs. The case is available in different colors, such as black, blue, pink, or green, so you can choose the one that matches your style or mood. The case's slim and lightweight design also makes it easy to carry and store, whether you're traveling, working, or studying.
The bottom line
In conclusion, this Shockproof Tablet Case is a must-have accessory for anyone who wants to protect their tablet from damage. Its shock and drop-resistant design, camera protection, and kid-safe feature make it a reliable and practical option for families, students, professionals, or anyone who owns a tablet. The case's style and design also add a touch of personality and flair to your device, making it stand out from the crowd. With the Shockproof Tablet Case, you can enjoy using your tablet without worrying about accidents or mishaps.