iPads have become increasingly sophisticated and necessary for day-to-day tasks. It's important to secure your device for your daily needs. iPad cases are ideal for protection. We offer a Heavy-duty Anti-drop iPad 3rd generation case that is the perfect solution for anyone looking for maximum protection for your iPad Pro. This case is made from a combination of silicone and PC, providing an optimal balance of durability and flexibility.
Triple Full-body Heavy-duty Protection
The design of this iPad case for 3rd generation can endure even the most challenging impacts, consequently providing heavy-duty anti-drop protection. It offers triple full-body heavy-duty protection, and provides up to 15 ft drop protection, keeping your iPad Pro safe from damage. This silicone and PC material case works together to absorb shock and protect your device from any potential damage caused by falls or impacts.
Precise Cutouts for Easy Access
One of the most important aspects of a good iPad case is its ability to provide protection without hindering usability. With this iPad 3rd generation case, you can rest assured that all your iPad's functions will be easily accessible. Its precise cutouts align perfectly with all ports and controls, allowing you to access all your iPad's functions without having to remove the case.
Built-in Rotational Folding Stand
In addition to its heavy-duty protection, this iPad case is equipped with a built-in rotational folding stand. It is ideal for hands-free use. The 360-degree rotating sturdy kickstand can be used to stand your iPad while watching a movie, playing games, or typing. With this feature, you can conveniently use your iPad Pro without holding it.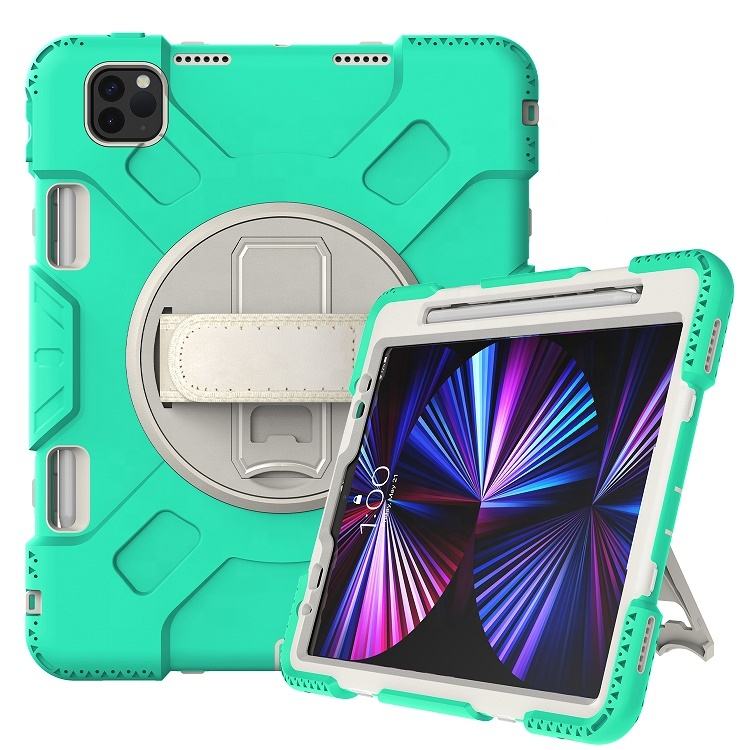 Compatibility
This iPad case is tailored to fit the iPad Pro precisely. It guarantees a flawless fit. Its dimensions of 21.13 cm width and 26.74 cm length perfectly align with the iPad Pro. It offers optimal protection to your device without adding any superfluous bulk.
Apart from its protective functions, the iPad case is also crafted to be visually appealing. Its smooth and contemporary design complements the iPad Pro's sleek profile. Moreover, its different color options make it easy to choose a case that matches your personal style.
This case is easy to install, requiring no additional tools or complicated procedures. Furthermore, it is effortless to clean and maintain, enabling you to keep your iPad Pro looking fresh and new for an extended period.
This iPad case is a must-have for anyone who wants to protect their investment while still maintaining the iPad Pro's sleek and modern design. It provides a high level of protection without compromising functionality or aesthetics. Whether you use your iPad for work or leisure, this iPad case designed for the 3rd generation will ensure that your iPad stays protected and secure.
The bottom line
In a nutshell, the Heavy-duty Anti-drop iPad 3rd generation case is the ultimate protection solution for your iPad Pro. With its triple full-body heavy-duty protection, precise cutouts, built-in rotational folding stand, and sleek design, it offers a perfect blend of style and protection. Therefore, if you aim to safeguard your iPad Pro against damage resulting from drops or impacts, make sure to acquire this Heavy-duty Anti-drop iPad 3rd generation case.