When it comes to outdoor exploration, having a dependable tablet by your side can truly revolutionize your experience. However, exposing your valuable device to the harsh outdoors poses significant risks. This is where our state-of-the-art tablet cases step in, offering a comprehensive shield against the elements. Let's explore the exceptional features that set our product apart.
Exceptional Material Selection for Maximum Protection
Our tablet cases are meticulously crafted from top-of-the-line materials, including high-grade PC and shock-absorbing silicone gel. What's more, they are equipped with an integrated screen protector, providing robust all-around defense. This ensures that your tablet remains safeguarded from scratches, impacts, and dust, allowing you to immerse yourself in outdoor pursuits without a second thought.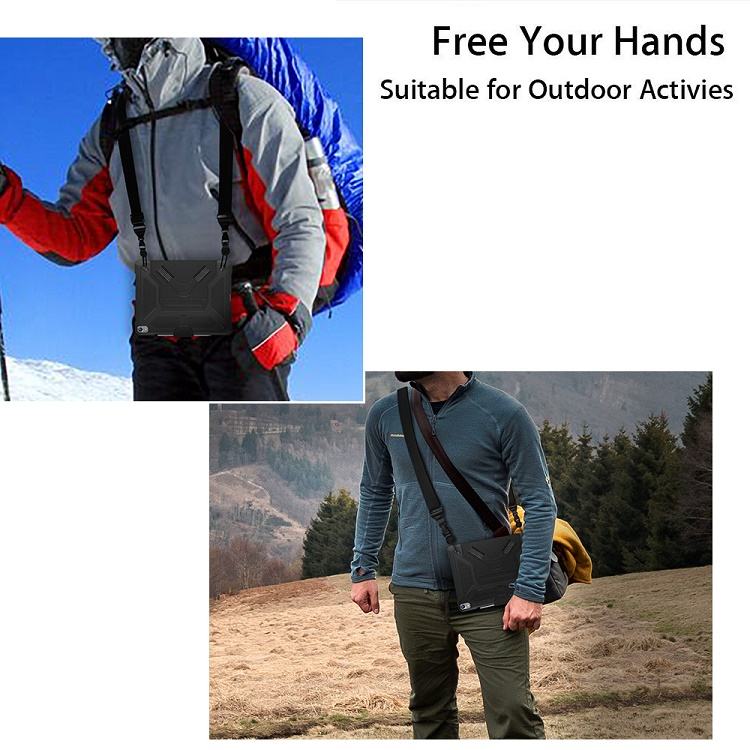 360° Rotating Stand and Convenient Stylus Holder
Versatility is the name of the game when it comes to outdoor activities. That's why our tablet cases boast a 360° rotatable stand, allowing you to adjust your device to the perfect viewing angle. Whether you're watching instructional videos, jotting down notes, or enjoying multimedia content, our stand ensures unparalleled convenience and comfort. Additionally, a dedicated stylus holder ensures that your creative tools are always within easy reach.
Adjustable and Detachable Shoulder Strap for Hands-Free Mobility
We recognize the importance of hands-free mobility during outdoor adventures. Our tablet cases come complete with an adjustable and detachable shoulder strap. This considerate addition enables you to comfortably carry your tablet while keeping your hands free for other activities. Whether you're navigating unfamiliar terrain or capturing awe-inspiring moments, our shoulder strap offers unrivaled convenience.
Rugged Protection Against Drops and Collisions
The great outdoors can be unpredictable, and accidents are an unfortunate reality. That's why our tablet cases are engineered to withstand the harshest conditions. They provide an impenetrable defense against falls, collisions, and impacts, ensuring that your tablet remains intact and fully functional throughout your adventures. With our cases, you can explore with unwavering confidence, knowing that your device is in the safest of hands.
Why Choose Us?
Guangdong Shuowei Technology Co., Ltd. is a professional factory specializing in plastic mold opening customization and 3C electronic injection molding products production. We have a complete and scientific quality management system with more than 200 employees, 26 first-class designs, and development teams, and 34 management personnel. We are a one-stop comprehensive service provider from R&D, mold opening to production.
In summary, our tablet cases are meticulously designed to enhance your outdoor experiences to the fullest. With features like premium materials, a 360° rotatable stand, an adjustable shoulder strap, and robust protection, they surpass the competition. Embrace the great outdoors with the assurance that your tablet is safeguarded by the very best. Choose our tablet cases and embark on your adventures with unshakable confidence.